We already covered a few reasons why and how you can use WordPress. But let's have a look at some of the additional and perhaps more uncommon approaches you could take with your site.
1. News Portal
Just providing the news is not enough, you need feeds as well. RSS feeds aren't dead yet, and are used by many people to integrate with their readers and get a mashup of different feeds. WordPress provides feeds of your posts by default, but you might want to display feeds from various sources. That is when a plugin like the WP RSS Aggregator comes into play. This plugin enables you to select a variety of RSS feeds and display them on your website. A great example of this is WP News Desk.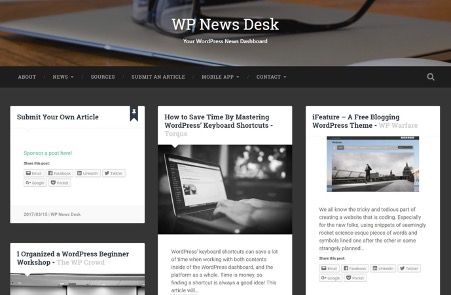 WP News Desk
2. Real Estate Management System with WordPress
If you're a company that deals in property and real estate using WordPress, you would probably want a separate plugin to manage your property listings. With the help of some plugins, you could create a website where builders, brokers, and customers come together. You could add a separate search and filter functionality to help your users. Add a payment gateway (which we discuss under e-commerce) and you could manage payments from within your website! A couple popular plugins that can help you do this include Estatik and Easy Property Listings.
Estatik WordPress real estate plugin
And if you're looking for some more alternatives, check out our review of 8 different WordPress real estate plugins.
3. Knowledgebase/Encyclopedia/Wiki
With WordPress, you can create a robust knowledge base on a niche, an encyclopedia with features like a glossary or even a dictionary. You can associate terms with your glossary, in addition to creating tags and categories. You can create user defined templates for displaying your content and make sure readers can find the answers to everything they need. Many businesses and developers, in fact, utilize knowledgebase plugins such as the Heroic plugin (as seen below) to create docs, which in turn reduce the time needed for support and emails.
Heroic Knowledge Base WordPress plugin
4. eLearning Portal and Courses
Want to create your own Coursera? There are a lot of easy ways to now do this in WordPress with learning management system (LMS) hosting. One of the most popular methods is probably with the LifterLMS plugin. It allows you to create, sell, and protect engaging online courses. The mission of LifterLMS is to democratize education in the digital classroom. Create lessons, build courses, include multimedia lessons, and so much more. In fact, WP101 which we mentioned above utilizes LifterLMS to educate the masses about WordPress.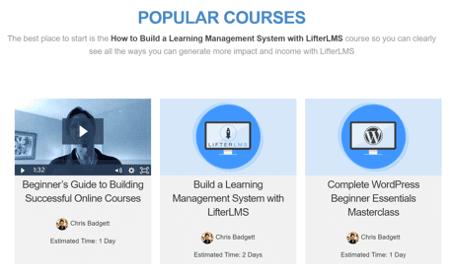 Creating WordPress courses
5. Appointment Scheduling with WordPress
Be it lawyers, musicians, consultants or doctors; these types of industries all revolve around appointment scheduling and booking patients and or customers in advance. Thankfully, there are a lot of great solutions with WordPress to manage bookings and online appointments right from your site.
Book an appointment in WordPress (Img src: EDD bookings)
For typical WordPress installs, we recommend checking out the Easy Appointments and Booking Calendar plugins. If you are running an ecommerce site, there are the WooCommerce Bookings and EDD Bookings plugins.
6. Invoicing System
Although sites like Nutcache and Freshbooks give you a lot of business tools like time and project management, if you want to do it within your WordPress site, WP-Invoice is a basic, but useful plugin.

WP-Invoice plugin
Create an invoice for your products and services and send them to your clients. You can enable them to pay you directly through your site by integrating a payment gateway like PayPal, Stripe, or Authorize.net. Add any time management plugin, and you can create a system that serves your full business needs.
There are also a lot of great plugins for creating invoices with your current ecommerce WordPress site, such as WooCommerce PDF Invoices and EDD PDF Invoices.
7. Creating a Job portal using WordPress
If you want to convert your WordPress site into a job board, all you need is a plugin. The WP Job Manager lets you add, manage and categorize job listings on your website. It currently has an impressive 100,000+ active installs with a 4 out of 5-star rating. Registered users (or guests) can search, manage and apply for jobs. Employers can manage job listings (fill, edit and delete active listings) too. Here you can read our complete WP Job Manager tutorial.
Job board in WordPress
8. Customer Relationship Management (CRM) System
You can integrate a customer relationship management (CRM) module right into your WordPress site. This can save you time and money from having to bounce around between other third-party systems. And due to the fact that there are some many other WordPress integrations, this might in fact even work better than a more closed off or limited solution.
CRM customers
There are a lot of different WordPress CRM plugins to choose from, in fact, we dove into the top 12. But if you're just starting we recommend checking out the Zero BS WordPress CRM and WP ERP plugins. Both are developed by devoted developers and have excellent support.
9. Events Management Systems
Run a business where you plan multiple events on a year-round basis? No problem. If you want to create events on your WordPress site and integrate them with a calendar, it's as simple as 123. In this post, we cover the best event management plugins. A lot of them have full syncing with iCal, Google calendar, and more.
10. Business Directory Portal
If you want to create a business directory, we recommend checking out the Business Directory plugin. It currently has over 20,000 active installs with a 4.5 out of 5-star rating. You can create local directories, list business providers and generate a yellow pages like listing. You can keep the listing free, or make it available at payment. As for premium modules, you can add a module to rate businesses and a Google Maps module to add locations to your listings.
WordPress business directory example
11. Project Management System
To manage the progress of a project and its subtasks, you need a project management system. Although standalone options like Trello, Asana, and even Github projects are popular among developers (read: git vs Github), certain people might want options within WordPress for such a system.
For those people, we would recommend a plugin like WP Project Manager or Kaban.
WordPress project management example
12. Forum
Forums might not be as popular as they used to be, but they are still a destination for many users seeking the answers they need. The easiest solution to creating a forum out of your WordPress site is bbPress. It's a lightweight plugin for WordPress, developed by Automattic, the same company behind WordPress.com. It currently has over 300,000 active installs with a 4 out of 5-star rating. bbPress comes with the ability of plugins and themes, to customize the functionality, look and feel of the core plugin. It best of all, it's free! For more options please take a look at our post dedicated to the topic: Top 9 WordPress Forum Plugins.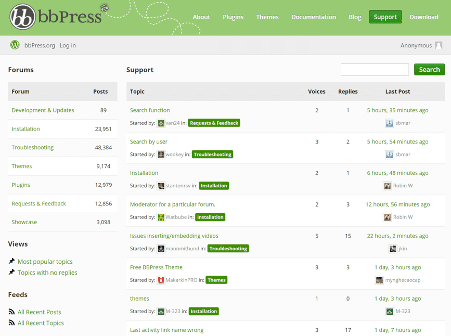 Example of bbPress WordPress forum
13. Crowdsourcing
There is a multitude of plugins out there that allow you to run your own crowdfunding websites in WordPress. You set up a cause, and integrate a payment gateway like PayPal or Stripe to accept payments. In fact, you can enable a feature where people are only charged if you reach your goal! We took a look recently at the top 6 crowdfunding plugins for WordPress.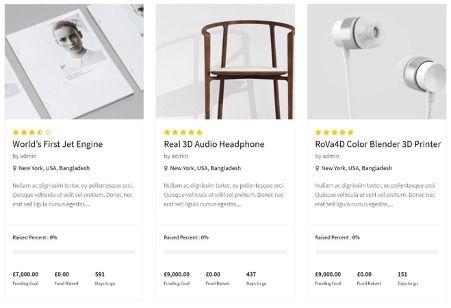 WordPress crowdfunding example
If you are just starting out we recommend checking out the WP Crowdfunding plugin, and if you're dealing with donations, the Give plugin is also very popular.
14. Social Network
If you want a mini Facebook within your website, BuddyPress is what you should look for. It allows you to create a social network for your company or organization. It allows users to set up profiles, post messages, connect with each other and create communities. BuddyPress has its own set of plugins for further functionalities. In general, BuddyPress provides a simple, yet good user experience if you want to create a minimal social network within your website.
BuddyPress
So, Why Use WordPress? Because It Rocks
WordPress has a strong following all over the world. Some developers would rather use other platforms, but that often has to do with learning certain coding languages and throwing themselves in less user-friendly environments. As for bloggers, business owners, developers with clients, and ecommerce professionals, WordPress is the right choice. Not only do you maintain complete control over your site, but you receive great advantages like plugins, themes, free tools, and full media support.
Hopefully, we've answered your question, "Why Use WordPress?" And if someone asks you the question, just send them over here. If you still have some thoughts or concerns, let us know in the comments below.