In recent years, the CRM (Customer Relationship Management system) has evolved far beyond being just a tool for contact management to offer something for everyone in an organisation.
As 2021 approaches and we move further into the new decade, some key CRM trends will shake up the industry as we know it.
Here are some of our top predictions for CRM in the upcoming year, including rising CRM use from new markets, powerful features and integrations, and the impact of wider tech trends on CRM.
The latest CRM trends for 2021 to pay attention to
1. AI is becoming a key part of CRM systems
If there's one thing that's affecting all industries, it's artificial intelligence (AI). We're using a lot more AI than we might think in our daily lives as well as at work.
14% of global CIOs have already deployed AI, according to Gartner's 2019 CIO Agenda survey, and it's estimated that AI associated with CRM activities will boost global business revenue by $1.1 trillion by the end of 2021.
2. There are fewer barriers for first-time CRM users
65% of sales professionals use a CRM and 97% consider sales technology "very important" or "important", according to LinkedIn State of Sales 2020.
However, that leaves one third of sales professionals not using CRMs. Common barriers to adopting a CRM include reservations about cost and lacking the resources and tech knowledge to implement a CRM system.
As CRMs continue on their trend of becoming cheaper, simpler to implement and easier to use, these objections are becoming increasingly irrelevant. We forecast a higher percentage of companies adopting CRMs for the first time in 2021.
3. Social CRM keeps rising
What is social CRM? It's the integration of social media channels into CRM platforms.
By viewing social media and CRM together, companies gain a more powerful overview of what people are posting about them on social media, as well as a clearer understanding of brand sentiment.
If organizations can use social CRM to respond to comments quickly and thoughtfully, they can build stronger relationships with existing and potential customers and incorporate more user feedback into their roadmap.
4. There's an all-star line-up of CRMs to choose from
Even though Salesforce's share of the CRM market is over 19%, there's a huge range of tools competing for consumer attention.
Customers are choosing from a diverse market of over 609 CRM systems, with tools that cater for both generalized needs and specific niches and requirements.
The CRM systems leading the way for user satisfaction right now on G2 are:
HubSpot
Salesforce
Less Annoying CRM
Freshsales
5. Businesses can condense their sales and marketing tech stacks
With the rise of sophisticated CRMs and core tech tools, sales and marketing teams can get away with using fewer tools than before.
As a tech trend for 2021, teams will increasingly wonder: why do we pay for App A when App B can now tick that box and more?
For best results from their tech stack, teams will be creating more integrations and two-way syncs to ensure contact data is always updated across all apps.
6. Voice and conversational UI will start integrating with CRM
Voice technology is critical for the evolution of SaaS tools. It's a key factor for accessibility, but it also simply makes tech easier and more enjoyable to use. According to Adobe's research on voice technology:
"Almost all users (94%) consider voice technology easy to use and say it does more than save time – it improves their quality of life."
Technology like Salesforce's Einstein Voice Assistant is making it easier for salespeople to track, message, update and notify their teams about customer data.
We anticipate many more CRMs following suit in the next few years of the 2020s with voice assistant usage and supporting hardware in operational processes and interfaces.
7. Businesses are automating more processes using their CRM
To stay relevant to tech-savvy customers, top CRMs need to offer advanced automation features.
Many of the top players have been investing heavily in automation in the last few years; including HubSpot, Salesforce and ActiveCampaign, which have placed automation front-and-center in their product and marketing.
In 2021, we predict CRM will become more synonymous with automation. For instance, using chatbots to communicate with customers and solve help tickets automatically, or using automated email workflows to nurture sales prospects down the funnel.
With automation, businesses can offer high-quality customer services while optimizing operational costs – something that an increasing number of businesses are realizing, and CRMs are continuing to support in new ways.
8. One of the top advantages of CRM? A high-def view of customers
Choosing a strong CRM and filling it with reliable data that's enriched by other apps is the easiest way for a company to build a comprehensive view of its customers.
According to LinkedIn's State of Sales Report 2020, top-performing salespeople have a higher confidence level in their CRM data than their counterparts. Of the top group, 53% are very confident, and of the non-top only 32% are very confident.
This shows a direct link between sales performance and high-quality data, which comes from putting in the time to maintain data cleanliness and integrity.
Despite huge investments in data, most executives don't trust their business data. According to a survey of over 2,000 data and analyti…
9. CRM is becoming interwoven with IoT technologies
From smart home devices to wearable health monitors and cybersecurity scanners, there are expected to be more than 64 billion IoT devices worldwide by 2025, says TechJury.
This also applies to the corporate world: 93% of enterprises are believed to have adopted IoT technology in 2019, according to Fierce Electronics, which will only continue in coming years. This ranges from simple IoT devices, such as energy meters and smart appliances, to more advanced solutions for greater cost efficiencies, organizational capabilities and supply chain visibility.
Improving customer experience is the area where most enterprises are using data generated from IoT solutions. With IoT technologies, companies can monitor and service their clients in new and proactive ways that were previously unimaginable.
10. CRM: not just for customer-facing teams
CRMs have been traditionally thought of as tools for sales and customer success teams. Times have changed – and CRMs are now a crucial part of a company's wider tech stack. In 2021, more organizations will realize that CRM benefits everything.
Marketers can use CRMs to best understand the contacts in their pipeline and monitor how CTAs convert. Customer success teams can access a 360-degree view of the customer to provide the most personalized experience. And management can access valuable data on performance across the board.
11. CRMs keep getting more sophisticated
The most requested CRM features are basics like contact management (94%), interaction tracking (88%) and schedule/reminder creation (85%). About a quarter of buyers want monitoring of the sales pipeline and funnel.
However, a fifth of CRM users want slightly more advanced functions: sales automation, a central database, email marketing, customization and reporting/analytics.
Mike Richardson, managing director at Maximizer Software, shared with MyCustomer the importance of balancing sophistication and a centralized view of the customer:
"Best-in-breed systems are rapidly appearing in the market, bringing increasing layers of sophistication and becoming extremely good at solving specialized needs… However, all of these different touchpoints with the customer need to be centralized into a single view of the customer experience, in a system of engagement."
12. A CRM's customer experience is as important as its features
According to Salesforce, 84% of customers say the experience a company provides is as important as its products and services. There are several ways to use CRM technology to meet the expectations of today's customer:
Live chat for quick support
Enriched data to show the full customer journey and previous support tickets
Accessible customer data across departments
Automated knowledge bases
Syncing customer data between apps to show a 360-degree view everywhere
As more organizations up their customer experience game, others must follow suit: 73% of customers say one extraordinary experience raises their expectations of other companies.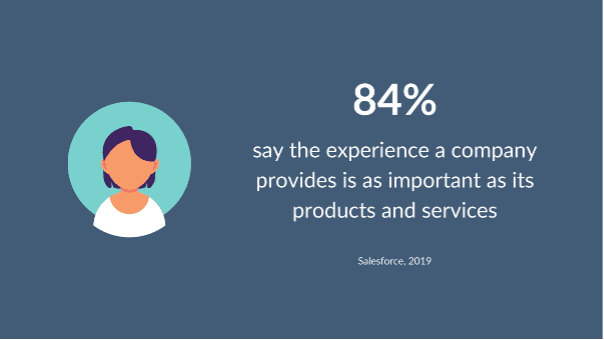 13. Consumers expect companies to know more about them
A business-to-customer relationship is becoming increasingly like any other human relationship. A company needs to remember previous conversations with a customer, understand their needs and expectations, and adjust communication accordingly. To enable this, all required customer data must be quickly accessible and accurate.
This isn't always guaranteed: 87% of consumers believe companies need to provide a more consistent customer experience, says Zendesk.
Having a CRM as part of a connected tech stack is the best way to fix this, as it allows different team members to store customer data about all previous conversations and known preferences.
14. CRM growth will come from new markets
Over 50% of CRM buyers in 2019 were in one of four markets: real estate, consulting, distribution and insurance. As we head further into the 2020s, a great deal of new CRM growth will come from other vertical markets. These include:
Healthcare
Finance
Insurance
Manufacturing
15. Younger generations are pushing for CRM use
28% of millennials think CRM applications are "extremely critical" to their success, compared to 18% of Generation X and 9% of Baby Boomers.
This CRM trend will grow as millennials and Gen Z continue to gain buying power and the next generations enter the workplace. In the decade ahead, more teams will become tech-centric and insist on maximizing performance through intelligent CRM technology.
16. A company of one is big enough for a CRM
How large does your business need to be to have a CRM? The answer for 2021 is: a company with one employee is big enough.
If you're managing contact details, juggling a busy pipeline and have customer data to keep track of, you can benefit from using a CRM. These are familiar pain points for freelancers.
Freelancers are providing a strong market segment for CRM platforms, and freelancer tools like Bonsai have already invested in built-in client management features.
17. Self-service via CRM
As automation becomes more synonymous with CRM (see #7), bots are completing more contact management tasks and saving team members from having to lift a finger.
Chatbots offered by platforms like Drift and HubSpot automatically guide prospects through marketing and sales pipelines – collecting data, asking questions and delivering more personalized content.
With self-service, customers get their questions answered faster with far less effort required from the provider. It's a win-win.
18. Analytics features need to be a CRM's strength
With sophisticated analytics at their fingertips, organizations are in the best position to identify problems, solutions and opportunities. Companies recognize this – and are increasingly looking for powerful analytics tools to process and report on their data in real time.
CRMs must offer advanced analytics too. Organizations want the most accurate data into how their sales pipeline is performing, how happy customers are and what's contributing to churn, for example.
Although not all organizations are ready for sophisticated stand-alone analytics platforms just yet, more SMEs are viewing CRM analytics as a must-have, not a nice-to-have.
19. XaaS – everything as a service
SaaS – software as a service – is well-known, but what's XaaS? Everything as a Service takes the concept of SaaS and spreads it to encompass every form of product and service.
With XaaS, any IT function can be transformed into a service for enterprise consumption – from platform as a service (PaaS) to infrastructure as a service (IaaS) among many others. XaaS includes any computing service delivered via the internet and paid for via a subscription rather than an upfront cost.
As a tech trend for 2021, we predict more organizations will seek cloud solutions for new corners of their business, whether as part of their CRM, a stand-alone system or a connected tool.
20. CRMs need to be connected to every other part of a business
As each year rolls by, more organizations are viewing their CRM as an essential organ for the wellbeing of their company. To make this happen and reap the benefits, a CRM has to be connected to all other tools and processes in your organization.
From your email marketing tool to your invoicing system, make sure to have two-way syncs set up between tools that store customer data and your CRM.
Keeping your data in sync is the best way to avoid human error, resolve pesky data silos, save time on manual input and paint the clearest picture of your business for every team.
In the 2020s, you should have no reason to distrust your customer data and wrestle with unending lists of duplicate emails and misleading data.
---
To benefit from the CRM trends for 2021, make sure your data is connected
If we have to make one overall prediction for tech and CRM in 2021, it's that more businesses will be using technology to eradicate or automate what they don't want to deal with – while getting better results from the tasks they focus on.
The recipe for that is a strong CRM, automated workflows where possible, and a connected app stack where data moves freely between your apps.