Yes, it's that time of the year again. The time when we close the balance for the current year and start planning for the next one. Can you imagine 2021 marketing without automation? No one can! But this doesn't mean that we don't need to be prepared for what the future holds in store for 2021.
So let's take a close look at the top marketing automation predictions for 2021. There has been enough uncertainty this year to warrant extra attention to being prepared in the next one, don't you think?
In fact, the uncertainty that shrouded most of 2020 lays the foundation for what will happen in marketing automation in 2021. With most businesses going fully digital or moving most of their operations online, the need for marketing automation software has increased exponentially.
And this is not something that will change too soon.
Marketing Automation Predictions for 2021
Digital marketing was largely viewed as a must-have strategy by most marketers even before the pandemic. Seventy-eight percentof marketers believe that digital marketing was the key to their marketing efforts successful.
People turned to their devices with studies showing that device usage leaped by 16 percent in a single day in the US! Everyone is online (still!) so there has never been a better time to polish your marketing automation strategy.
1. Video Marketing on the Rise
Image source: ClipChamp
Video marketing is not a new concept — it stuck around because it works. Everyone loves watching a relevant, entertaining video.
Statistics show that 85 percent of internet users watch video content and it is estimated that the average person will be spending 100 minutes a day watching online videos in 2021.
They are easy to follow and when done right, educational too. There are several video types that you can use to reach your targeted market. For instance, some people have turned to vlog to reach their audience.
Recorded or live Q&As are also extremely popular and will continue to be this way. These are great for interacting with your audience. Q&As are more informative and don't seem like sales so you can attract people to your business easily.
In the last couple of months, webinars have become increasingly becoming popular. This is because webinars are engaging and educative. They are a great way to build a connection with your audience. Using videos for marketing can be done in a variety of ways, including through social media networks like Facebook, TikTok, and Instagram.
Ninety-three percent of companies say that their video content helped them to get new customers, with 63 percent of businesses saying that they get the best ROIs through their videos.
One of the best things about video marketing is that, even though you can't automate production, you can definitely automate its distribution. There are dozens of social media management tools to help you distribute your video content automatically. Just schedule the post and go on with your day.
The same goes for sharing your video content with your email subscribers. Schedule a campaign in your favorite automation tool and go back to your dashboard to see how it performed.
Pro tip: leverage marketing automation for a video like a pro. Schedule your most important videos to be published at different times on different days. Why? Organic reach on social media is low, so posting a video just once means that you'll only reach a small fraction of your audience. Play with different times of the day to catch bigger chunks of your fan base, especially if you cater to an international audience, in multiple time zones.
2. Automate for the Non-Linear Buyer Journey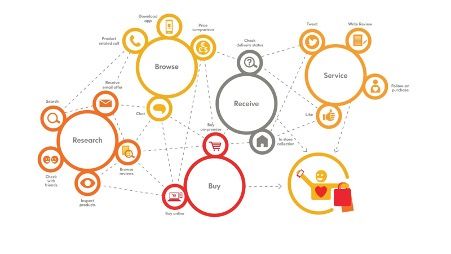 Image Source: Fourth Source
Remember, when we all used to rely on a clear customer journey: awareness, consideration, decision. That's it! Start creating content and campaigns for each stage.
Well, not anymore. Today's customer journey is complex and unpredictable. Sometimes, they will narrow down their search to a single brand only to expand it again minutes later.
With more time to spend online researching options, consumers are becoming more and more aware that they are in charge of the process and that they don't have to give in to remarketing ads or persistent email campaigns.
What can you do?
Automate, but smartly.
Invest in marketing automation software that allows you to have a 360-degree view of the customer's behavior and cross-reference reports. Integration is your best friend here: integrating your CRM with your marketing automation tool (for instance, Salesforce with Mailchimp), you can send hyper-targeted and relevant messages to your contacts.
Marketing automation in 2021 has to respond to the customers' demands: less generic campaigns, more personalization, and more relevance.
3. Email Marketing Automation Meets Cross-Channel Strategies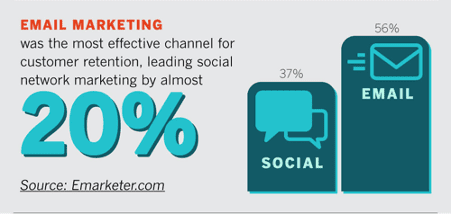 Image source: Profit Works
It feels like email marketing has been around since the beginning of time. But just because it's rather old, it doesn't mean it's any less significant.
Marketing automation has taken an email to the next level.
Email marketing has progressed over the years and it has now become more personalized and tailored to every recipient's needs. Nowadays, it has all been hyper-simplified. All you need is your email address, and the rest can happen on auto-pilot.
Email marketing automation will also get a significant upgrade in 2021. Forget about siloed marketing tactics and integrate email with your business goals in 2021 and beyond.
How can that happen?
When you integrate your email platform with your CRM or ESP, you get a birds-eye-view of your customer's profile. This means that you can (and should!) set automated campaigns for:
Thank you notes after purchases
Recipient's birthday
Reminders for clients who usually purchase things at regular intervals (for instance: "Hey, it's time to refill your cat food bag")
Very specific segments: import data from your CRM into your email marketing platform to know, for instance, who will attend what class in your gym. Then proceed to send automated emails to those people alone.
4. AI (Artificial Intelligence) Use on the Rise
No, this is not about the kind of artificial intelligence you see in movies. This breed of AI is specifically made for businesses. It is meant to make processes and operations easier.
Let's look at two kinds of marketing automation AI. Despite the low uptake of AI in business over the years, 2021 will most likely see a spike in usage.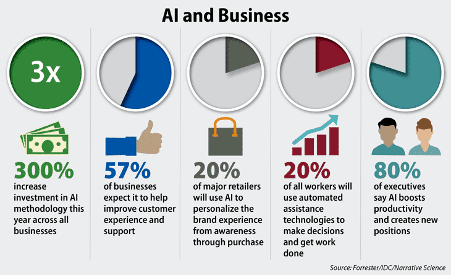 Image Source: Datamation
Most of the behavior patterns that consumers follow when looking to make a purchase, like asking friends and family for referrals, checking out reviews, or online researching, have made their way into the business world. A lot of research is done before the potential buyer goes to your site.
Conversational AI is here to help with that. It is an artificial intelligence technology that powers chatbots to respond to inputs.
In short, this technology looks for a way to narrow down where a potential buyer is in their buying process and what are the next steps they should take. This can be done by asking questions to website visitors while they are still on your site, for instance.
AI makes it easy for a customer to navigate through your website, making it easy for them to get what they are looking for instead of wasting their time going through everything.
It also shortens the sales cycle and leaves your website visitors more fulfilled. In short, AI (in marketing automation) can improve your chat conversion rates significantly.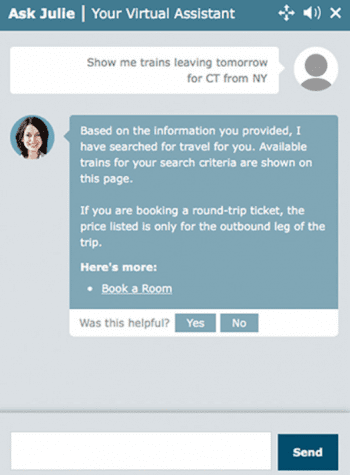 Image Source: Target Marketing
Email marketing also uses artificial intelligence to make email tasks easier. Email service providers offer AI-based tools that you can easily adjust to make it specific to your brand's needs.
If your goal is to increase your click rate and conversion rate for your campaigns, 2021 is the year when you should consider AI for email. It is going to help you organize your campaigns by making it possible to send specific emails to the recipients who need them.
Artificial intelligence can create algorithms that optimize content according to the price, relevance, display order, etc., and send it to each subscriber catering to their needs.
AI for email considers a subscriber's behavior on your website, looking at how they respond to messages, their social media activities, and purchase histories, among other factors to know where their interests lie.
Once it has narrowed down a subscriber's interest, AI now filters these interests to find the one email that will fit the customer's needs. It then proceeds to send it to them.
When people receive offers they are interested in, it creates better customer engagement and increases sales for your company. Email AI is still evolving and increasingly becoming easier to use, even for small businesses. This is the kind of marketing automation prediction for 2021 that you can use to grow your business starting right now.
5. Better Personalization Fueled by Marketing Automation
Yes, personalization takes center stage in 2021 and beyond. But personalization without marketing automation is a nightmare. Can you imagine emailing everyone in your list separately, so you can add personalized information in each email?
It's OK, you don't even have to go there. Marketing automation can do this for you. And, in 2021, it goes beyond adding the recipient's name.
New developments in marketing automation will allow you to deliver hyper-personalized messages across channels. In fact, this will be the norm starting with next year.
Picture this: you have a loyal customer who follows you on two social networks and orders from you regularly. They sometimes also use your website chat or call your support department. How do you which channel works best when you try to reach them?
Marketing automation will take that off your plate. Coupled with AI and cross-dashboard views, you will be able to know which is their favorite channel and send personalized, automated messages.
6. Integration Is no Longer "Nice to Have". It's a Must.
Integration helps bring together different facets of your business to work as one efficient tool. It's not just sales and marketing that will live prosperously under the same "roof" (read: dashboard). It's also accounting, IT, operations, customer support, and more. Pretty much everything that counts towards your business goals can be brought together in a single dashboard using iPaaS or integration services.
Come 2021, SaaS and iPaaS will become increasingly popular for obvious reasons. These tried-and-tested solutions will enable industries affected by the crisis to transit effortlessly and seamlessly into the new normal.
Integration is a crucial marketing automation prediction for 2021 because it marks the end of siloed business operations and the beginning of seamless transitions between departments and channels.
As iPaaS services evolve, they bring easy-to-use interfaces that come with a plethora of benefits for both the companies using them and for their customers.
7. Offline Conversion Tracking
While acknowledging that almost everything is turning digital, let's not forget that brick-and-mortar stores will continue to exist. Only they will have an online presence, too.
But in the era of seamless communication across channels, you can't afford to keep the two separate. This is where offline conversion tracking comes in.
To achieve this, some companies have been using promotional codes, coupons, sensors, and other means to translate digital marketing and in-store foot traffic into sales.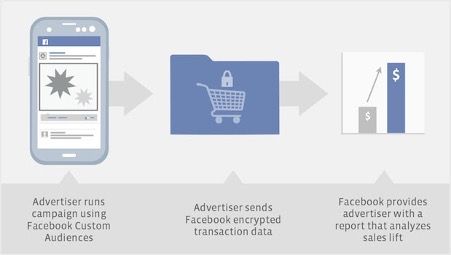 Image Source: Marketing Land
Google uses features like geo-targeting to show potential customers and uses product searches to determine conversion rates. Facebook uses data from customers with location services to show local store advertisements.
Marketing automation tools can now give you combined insights from all your customer touchpoints. Neatly grouped in a single dashboard, they will fuel your growth through data-driven campaigns.
Conclusion
With the new changes looming on the corner, a lot has to be changed for businesses to perform well in the coming year. The above marketing automation predictions for 2021 are just some of the ways to ensure your business thrives.
Investing in the right marketing automation now will mean you have a leg up before the next business year begins.
Take your time and evaluate your options and marketing efforts. Find better and more efficient ways to interact with your customers so that you can cater to their needs. Digital marketing is an ever-changing field and you need to adapt with time using the right strategy and tools.
While marketing automation is great, it's not everything you need. The human touch is also important, perhaps more important than ever. Even if you can automate every email and social media campaign, remember to always humanize them. A hand-written thank-you note sent along with the order can turn a first-time buyer into a loyal customer for life.
Remember that catering to customers' needs means understanding them first. So take the time to do that. Analytics reports in marketing automation get more refined every year, so you have the perfect opportunity to dig deep into customers' behavior and adjust your strategy according to it.