Amazon was one of the earliest contenders in the world of e-Commerce which started as an online book store, today the e-Commerce industry is worth more than $5 trillion, contributing to more than a fifth of the world's total retail sales. Here's how to get your slice of the cake.
The world of the e-commerce market relies on the way you advertise your product to the right buyer. Even when it sounds intimidating, it's just a matter of understanding and implementing existent strategies that are known for bringing in the magic results. Here are 14 foolproof strategies to yield years' worth of traffic in just weeks.
What is e-Commerce and why is it important to you?
Putting it in simple words, e-commerce is your product listed on the internet and as you already know, the Internet at its core is the Idea of keeping everything connected. In the same way, it keeps buyers connected to the sellers, but in different ways for different sellers. Didn't understand why?
Well, because the internet is vast and the amount of sellers present is way more than a buyer wants to see in one search result. So the Internet does what it does the best, filtering – Bringing up the most relevant and useful results on the top and discarding the irrelevant ones to the very bottom.
Well now that you know the importance of making it to the top of the list, let's see what are the best ways to do it Maverick.
14 elite e-Commerce strategies to skyrocket your sales
Content is the King and Consistency is its Queen
Understanding SEO and its application
Email marketing is many strategies in one
Get your users back with Retargeting
Usage of Google shopping ads
Social media for niche-specific audience
Influencer marketing for an established market
Personalization earns repeated costumer
Create a loyalty program
Flash sales make you the talk of the town
Upselling and Cross-selling hit right where they should
Special discounts and coupons 
SMS marketing is a reminder to your users
Referral program/affiliate marketing
Content is the King and Consistency is its Queen
Let your content be a wildfire, and advertise your content in every format possible. Be it social media posts, music platform ads, or YouTube ads, you should be able to catch the eye of users right in the short span before they skip it.
An Impactful blog can instantly turn potential leads into customers. While structuring a blog is the most important aspect of an informative piece, statistics and case studies are the factors that keep your readers interested and increase the conversion rate.
Understanding SEO & its application
SEO or search engine optimization is one of the most cost-effective ways to bring your store on top of any search engine's results. This gives you traffic that is organic and expects the best service from the topmost sites. E-commerce SEO focuses more on ranking product pages and transaction-oriented sites.
SEO techniques and their applications can be constantly learned and implemented by business owners themselves or the task can be made easy by hiring a marketing team. At Blustream, you can leave all your worries about technicalities with us and pat yourself on the back for making a smart choice.
E-mail marketing is many strategies in one
According to litmus.com, the Return on Investment (ROI) averages at $36 on every $1 spent when it comes to E-mail marketing, keep in mind, that's just the average, not the highest. E-mail marketing is a wide range of opportunities once you get people to sign up for your newsletter. E-mails with info about sales, discounts, special coupons, and even push e-mails to users who left midway can bring in the traffic you didn't see coming.
Get your users back with Retargeting
Retargeting can be a cheap and effective tool to bring in leads to your page that have a significantly higher probability to convert into customers. People who have already visited your page have a subconscious memory of it and have a much higher tendency to click on your ad than any other viewer. According to business news daily, advertisers have reported a whopping 128% increase in conversion rates by using Retargeted ads.
Usage of Google shopping ads
If you've ever made any search on Google, you might know Google has a separate shopping section for results. According to marketingcharts.com, Google contributes to over 48% of all product searches. You know you got to improve your rankings here when half the market revolves around this.
Charges for the ads are based on the number of clicks your ad gets, but converting that click into a lead depends on the impact your page has on the user itself.
Social media for niche-specific audience
It's no secret that people spend a big chunk of their time on social media. While social media is turning into a world in itself, it's important to set your step in it and contribute to the virtual market.
In a survey conducted in 2022, over 60% of social media users shop when they stumble across a product in their feed, and an equal percentage contributes to people who buy from the brands they follow on social media. In short, building your social media presence is essentially building a recurring consumer chain.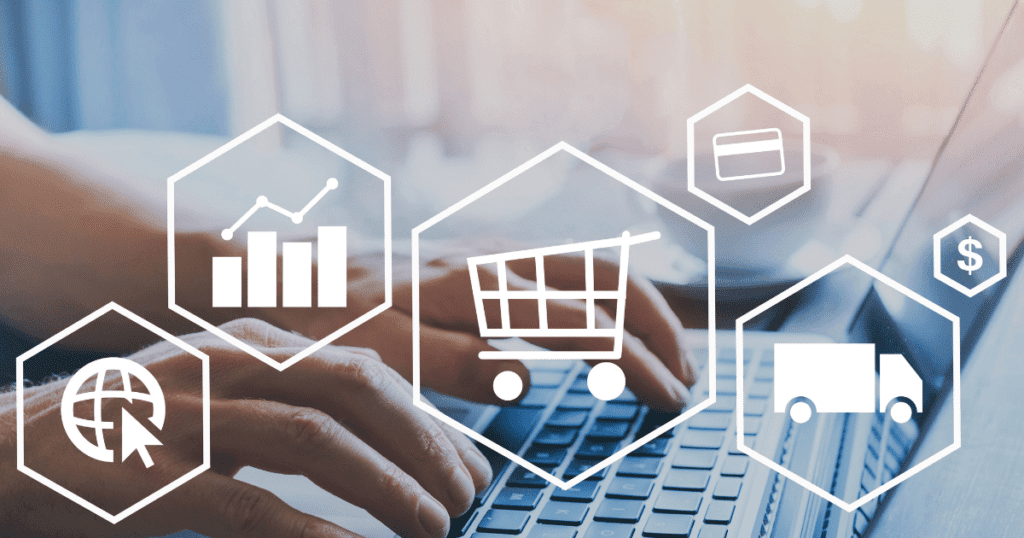 Influencer marketing for established market
Not too far from social media, lies Influencer marketing. The same survey mentioned in the previous para deduced that 60% of people buy products recommended by their favorite influencer. Influencers who have specific audiences are a source of quality recommendations to their followers.
Targeting the right celebrity can generate a constantly growing flow of leads and even referrals. Yeezy wouldn't be a $3 Billion brand if Kanye West hadn't partnered with Adidas.
Personalization earns repeated costumers
Personalization is a tried and tested strategy followed by big brands like Amazon, Flipkart, and Samsung. With every new Samsung phone launch, existing users get personalized offers for exclusive deals and exchange offers for the model they're using. This strategy drives enormous pre-book sales to their brand and creates a sense of community among their users.
Be it personalized emails, messages, or pop-ups, use personalization to make the user feel special, the sense of being part of a community is one of the biggest driving forces of humanity, and leverage the best out of it.
Create a loyalty program
Just like creating a community, loyalty programs can help your sales get up a notch. From giving personalized offers for special coupons, to giving suggestions based on user interaction data, getting your old customers back to the shop is always 5 times cheaper than getting new customers.
Conducting short surveys after closed deals can also be an effective practice to collect important data about your user. By tracking their buying habits & regular supplies, you can reward them with loyalty points that can then be redeemed on their next purchase.
Flash sales make you the talk of the town
A flash sale is a short-term sale with heavy discounts on products in demand. Getting products at prices much cheaper than their regular selling price is a huge attraction to new as well as existing customers. While creating a new chain of users it also creates the will in the user to shop with you again.
Flash sales can also be occasionally used to get rid of depreciating valued stocks while companies also use them to launch an unreleased product in the market. The correct way of pulling off a successful flash sale is by promoting it well in advance through ads, emails, and messages.
Upselling and Cross-selling hit right where they should
When brands like Myntra, Amazon, and Flipkart seem to use the same strategy time and again, you know it's effective right away. One such passive strategy is Upselling and Cross-selling.
Upselling refers to suggesting a higher rated and higher priced version of the same product type that the user wants and Cross-selling refers to suggesting products that are complementary or frequently bought in pair with the product the user is looking for.
Both of these can be done while the user is still on your site or through emails with suggestions after they've made their initial purchase.
Special discounts and coupons
As discussed before, once you have the user's trust and their e-mail, you can approach them with exclusive deals, discount offers, coupon codes, occasional sales, and even flash sales.
An exclusive example of this is Amazon's annual Prime Day(s) event, which is nothing but a flash sale with exclusive deals and discounts for all customers.
SMS marketing is a reminder to your users
SMS still exists and even when it sounds like an outdated strategy, it's still one of the most fruitful. Text messages are something people just can't ignore. There are multiple ways you can use SMS to your aid, here are a few:
Follow up after a purchase
Delivering exclusive offers and sales
A reminder of an unsealed deal
Follow up for feedback and reviews
Referral program/affiliate marketing
Lastly, allow referrals, let the user become your advertiser, and give them incentives or offers in exchange. Affiliate marketing itself is a $12 Billion industry and is not looking back any day. Promotions with Influencers can also include affiliate links and special discount links to make them more effective.
Tip: Use a mix of these strategies and implement them in your way, see what works the best for you. And if you can already visualize implementing these elite strategies, take a moment to subscribe to our newsletter, so that you never miss premium content like this.