Search Engine Optimization or SEO is all about getting organic traffic to your webpage. This differs from SEM (Search Engine Marketing) because we're not talking about ads here, it's all organic.
Be it an online store, a personal blog, or an infographic, you need to have a plan for optimizing your appearance in the search results. We have a complete guide on how to get started with SEO, but for now, let's discuss the most important factor about it – keywords!
What are keywords?
Simply put, keywords are terms that are closely related to your post's topic and show up from time to time in your content. These terms should be words that are common and would be used by a common user to find the content that they need.
You must identify these terms, as repeating them throughout your page would mark your content as "relevant" to Google. Once Google knows that your content is valuable, it'll automatically start ranking it higher.
Keyword search in 5 quick & easy steps
To get you started, we've simplified the process into 5 easy to follow steps. Have a quick look and you'll be ready to roll.
Define
Brainstorm
Filter
Inspect
Prioritize
Define
The first step is to find the intent of the user and find relevant keywords and further content to satisfy the user. This step can be further divided into 4 steps.
Be clear about what is your page's central topic. Research each topic one by one instead of searching everything together. One thing to remember is to avoid topics with high search volume and high competition or have a low search volume, making them harder to search for.
Be aware of the user's intent. Understand what the user needs with the topic and if your page has satisfactory information for them.
Having a rough idea of the user's intent and need, the next thing to do is to see if your page has a page with relevant and satisfactory information. This is called the landing page, it should be impactful and informative.
Extract the Seed keyword, this is the broadest keyword surrounding the user intent. You will later use this Seed keyword to find more specific and relevant keywords.
Brainstorm
Here's when you start extracting more keywords out of your Seed keyword and build a group of relevant keywords revolving around the user intent. Focus on quantity over quality, as soon as a word is relevant, add it to your list. We will divide this step further for better understanding.
Think from the user's perspective and understand what the user wants to see on the landing page. Synonyms, adjectives, or even verbs of the relevant words are potential keywords.
Using Google's search console's performance report, find keywords that already rank on search results and can be inserted on your landing page without a visible transition.
Use Google keyword planner to boost your findings. Search for your Seed keyword on Google keyword planner and analyze the results. Review and replace your keywords or even your Seed keyword if the suggestions are better.
Use competitor research tools like Ubersuggest, SERanking, and SEMRush. By entering the landing page of your competitor's landing page with your Seed keyword, you can find more relevant keywords that match the user's intent.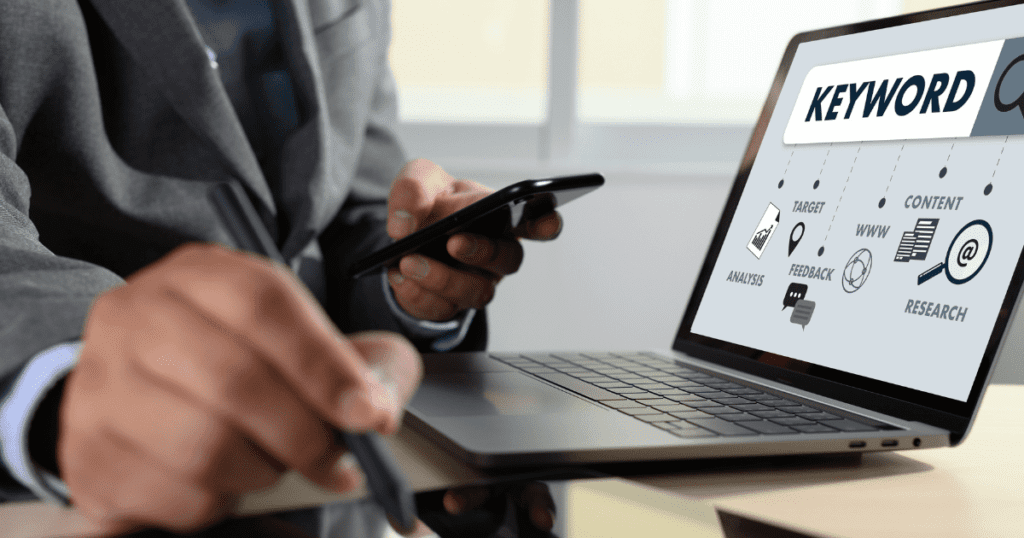 Filter
One of the most essential steps of all, filtering will give you a limited number of useful and effective keywords. Simply put, this step is exactly the opposite of the previous step, here you must opt for quality over quantity. Let's break down this step further.
Aim for the sweet spot and filter out no less than 6 and no more than 20 refined keywords keeping the user's intent in mind.
Go ahead and use tools like Google Keyword planner or paid tools like Ahrefs and SEMRush to aid your filtering process.
Cut out keywords that are less relevant and have low search volume. Even keywords that have good search volume but would be suitable for some other page of yours can be cut off.
Inspect
This transition is just an additional step to make sure you don't carry any unnecessary content with you.
Revisit the keywords one by one and check their monthly search volumes one last time.
Use the keywords with the higher ranking the most, and the ones with the lowest rankings and search volumes the least.
Keywords with high search volume and have an overall broad meaning should be termed as difficult keywords, use more difficult keywords according to their ranking and not based on their search volumes.
Prioritize
Here's when you put everything together on a final list and start implementing the keywords across your page. Here's how you can classify them and decide which keywords should be used the most.
Pick just one primary keyword, this keyword should be selected wisely as it will be the reason for most of the traffic you get through keyword SEO.
Pick two secondary keywords and distribute them across the landing page. They must have a good balance between search volumes, difficulty, and relevancy.
Lastly pick your tertiary keywords, these are the least important to you but still help you rank. A maximum of 20 keywords are selected as tertiary, though these keywords have low search volumes, they are still relevant to the user's intent.
Extras
Add this finalized list of keywords to keyword ranking software like Ahrefs, SEMRush, Wincher, or Moz.
Use your keywords in crucial keyword elements like titles, headings, and body. Conduct this research every few months and keep your page updated with the trend.
And if you've made it to the end of this blogpost, take a second to subscribe to our newsletter to never miss posts like this.