What is digital transformation?
To meet changing market and business requirements, digital transformation is the practice of employing digital technology to build new — or adapt current — culture, business processes, and consumer experiences. Digital transformation is the redesigning of the company in the digital era.
It extends beyond typical jobs like marketing, sales, and customer support. Instead, digital transformation starts with how you perceive and interact with consumers. Having digital technology at our side, we have the opportunity to rethink how we conduct business — how we connect our consumers — as we go from paperwork to spreadsheets to smart systems for business management.
BASIC STEPS TO DIGITAL TRANSFORMATION –
FIND THE MEANING OF DIGITAL MARKETING FOR YOUR ORGANIZATION-
Because there is no globally acknowledged concept of digital transformation, the transformation process will range considerably from one company to the next. There are several things that one must consider.
Furthermore, there are many distinct stages of transformation for each section of your business, so you must decide what you want to alter.
First and first, it is critical to consider the broad picture and determine why you require digital transformation and also what benefits it might offer to your firm.
You're ready to proceed once you've decided why your firm requires digital transformation. This will allow you to outline your plans and choose which resources you will employ.
A digital transformation is not something that happens immediately. It's a trip that needs meticulous planning and execution. To begin with the digital transformation stages, you must first examine your firm and comprehend its existing situation. This includes assessing every aspect of your company, from your social media and website visibility to the customer relationship management (CRM) system. Once you have a good idea of where things currently stand, you can start making plans for change. Remember that change is a continuous process, so set realistic targets and create flexibility to handle future changes. You may start your road to becoming a digital company with a good plan in place.
CREATE THE DIGITAL TRANSFORMATION STRATEGY
Digital transformation does not have to be comprehensive or occur all at once. In actuality, this isn't always the most feasible or productive strategy. Instead, divide your change into doable chunks and create a detailed plan. Collaborate with stakeholders to gain buy-in at all levels and ensure that everyone is on track with the strategy. Most essential, don't be hesitant to alter your strategy if something isn't working. The key to navigating your digital transformation path is to be nimble and responsive. You can produce incredible outcomes with the appropriate approach and execution.
ENSURE THE SKILL SET IN YOUR EMPLOYMENT
There have been a lot of digital transformation initiatives that have not gone as intended. The primary cause of this tragic sequence of events is a lack of necessary abilities.
It's not altogether unexpected given that digital transformation initiatives include the usage of new technology, which organizations may find difficult to implement owing to a lack of capabilities.
To conduct digital transformation, it is reasonable to conclude that high-quality human assets are required.
If you want to complete your project effectively, all of your staff, regardless of their management rank, must have a particular set of digital abilities.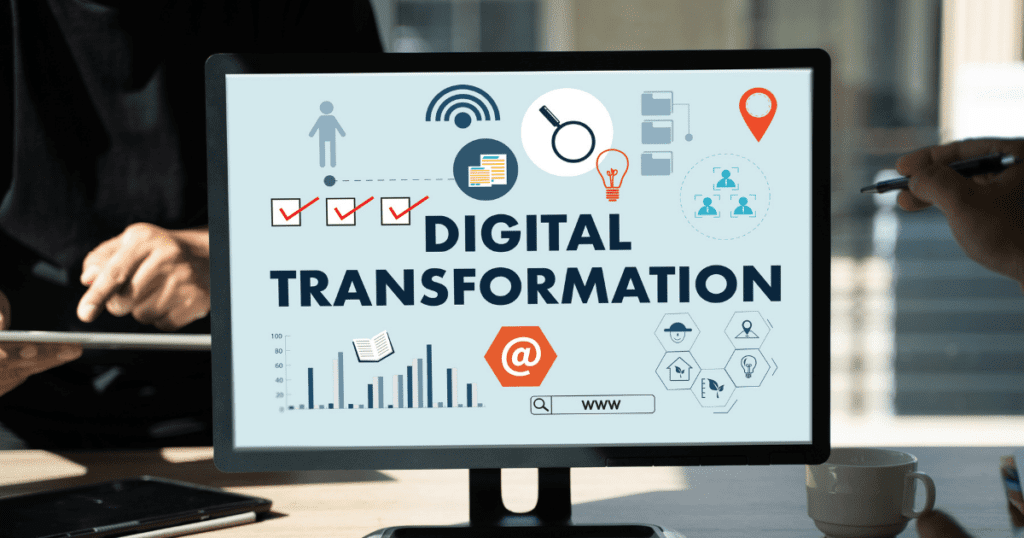 It is now time to put the digital transformation strategy into action. Setting realistic objectives and timetables, as well as guaranteeing that everyone within the business is dedicated to reaching them, is essential. It also entails remaining flexible and adaptive while you carry out your strategy, as well as being open to making changes along the road. You may put the business up for achievement by staying focused on your objective and remaining adaptable in your approach.
It is critical to start gently and ensure that everything is operating well before going onto the following stage.
BENEFITS OF DIGITAL TRANSFORMATION-
DRIVES DATA-BASED INSIGHTS –
One of the most significant advantages of digital transformation is the ability of your company to gather and analyze data that can be turned into practical, revenue-generating insights. Previously, your data was dispersed over several disconnected platforms, or worse, you may not have gathered or utilized it at all. Digital transformation will allow for more robust data collecting, centralized data storage, and the development of tools to evaluate and interpret data into information that will support informed business decision-making.
ENCOURAGES COLLABORATION –
Many individuals are afraid of change. The concept of a complete business undergoing a big digital transformation could be intimidating for personnel ranging from executives to entry-level workers. All procedures and tactics must be addressed, right down to the fundamental structure and business culture.
Employees may bridge generational and social differences by using the correct tools and training to engage in dialogues and learn together. A strong leadership mentality with clear instructions can boost the workforce's digital intelligence and inspire cooperation.
Digital transformation combines resources and information into a set of business tools. Rather than scattered software and databases, it consolidates company resources and removes vendor overlap. In 2020, the typical number of apps utilized in enterprise enterprises will be 900. Databases, applications, software, and databases may be integrated into a centralized repository for corporate insight through digital transformation.
Customers have high standards when it comes to digital experiences. Customers are used to having many options, quick delivery and reasonable cost. The new fight for brands is the customer experience. According to Gartner, more than two-thirds of organizations think they compete primarily on customer experience.
One way to differentiate your business from competitors is to demonstrate that you value your customers' privacy. Provide the client authority over how personal data is gathered and utilized, and give them the freedom to make data-related decisions.
The third and most important advantage of digital transformation is this. The primary act that sets the groundwork for all subsequent corporate growth is digital transformation. Your organization will swiftly become outdated if you do not invest in digital business transformation. We've seen industry titans like Kodak, Toys R' Us, and Blockbuster go bankrupt in recent years. Why? Because they were unsuccessful in their digital transition. Digital transformation is a must. It's not the cherry on top of a great business. To withstand the digital tsunami that is swallowing the planet, you must evolve. You'll gain the advantages of digital transformation and then become bigger and more profitable in the process.
CONCLUSION
A digital transformation is a continuous and challenging process. However, merely concentrating on consumers and following these procedures might result in significant growth.
Digital transformation could be motivated by a goal to enhance efficiency and productivity, or by shifts in the industry or competitive landscape. In many circumstances, it will be a combination of the two. Whatever the motivation for going on the digital transformation path, having a clear strategy and goals in mind from the start is critical.