When it comes to the opportunities that come with using an online learning platform, the benefits much exceed the costs. Your partner engagement, sales managers, and HR will be grateful to you for making their jobs easier. E-learning may be utilized for new employee adaptation, compliance training, online learning, customer training, corporate training, personal and professional growth of current team members, and partner engagement. When appropriately tailored to specific needs, one such platform allows you to inform rather than instruct others about what you want them to know.
These are some of the ways online learning will help you change your business –
Convenience – Employees gain from e-learning since an online program can be accessed everywhere, at any time, and on any device, whether it is a tablet, a cellphone, or a laptop. One can learn while traveling to work, on vacation,   waiting for a buddy at a coffee house, or at home sick. In turn, e-learning systems allow firms to quickly collect comments from trainees or notify them of the most recent developments.
Save time -You do not need to waste time as a company owner seeking training, resources, or places. When you see the need to teach staff on a certain topic, you create a course and integrate it into the platform. When compared to traditional learning, online learning consumes 40-60% less employee time.
Satisfaction – The final stage in the knowledge-building formula is to determine what is required to ensure that learners have a positive learning experience. This step will include identifying the resources and opportunities that learners will require to help them apply their new information and skills, but it will also necessitate the identification of inspirational instructional strategies that will assist learners in maintaining interest, attention, and desire for the teaching materials.
Sustainable and environment friendly – Because it removes the requirement for paper handouts, online training decreases your carbon impact. Courses, evaluations, and feedback may all be completed online. Certificates of achievement are also available online.
Staff involvement – Employees are more motivated and involved in corporate operations as a result of implementing e-learning for them. Furthermore, according to Molly Fletcher Company, online learning may raise worker participation by 18%.
Employee retention can be improved -Employees rank opportunities to grow and learn as the most important driver of positive work culture, therefore establishing a solid learning program is an excellent strategy for increasing talent retention. You demonstrate to your staff that you value their development and growth by engaging in an e-learning platform and providing tailored, role-specific training.
Attracts more young people – Opportunities to improve and learn are highly essential to 59% of Millennials, 41% of Baby Boomers, and 44% of Gen Xers when searching for a job.
Results – The first step in building educational experiences is to determine the intended outcomes. This will be your guiding light in making decisions about the development and design of the educational experiences you're building.
Win more deals – A McKinsey study found that sales teams who receive tailored education are 1.3 times more inclined to outperform their colleagues. Your e-learning platform is the key resource for the sales force to learn more about their clients and the items they offer.
Cost efficient – E-learning is far less expensive than traditional classroom learning. You are not required to pay wages for instructors and trainers, pay for a class, or pay for learning tools and catering as a company owner. You only pay a group of developers who are working on the online learning platform. Nobody ever stated that developing e-learning software was inexpensive. However, it is a worthwhile investment that will eventually pay all of the expenditures connected with the regular classroom.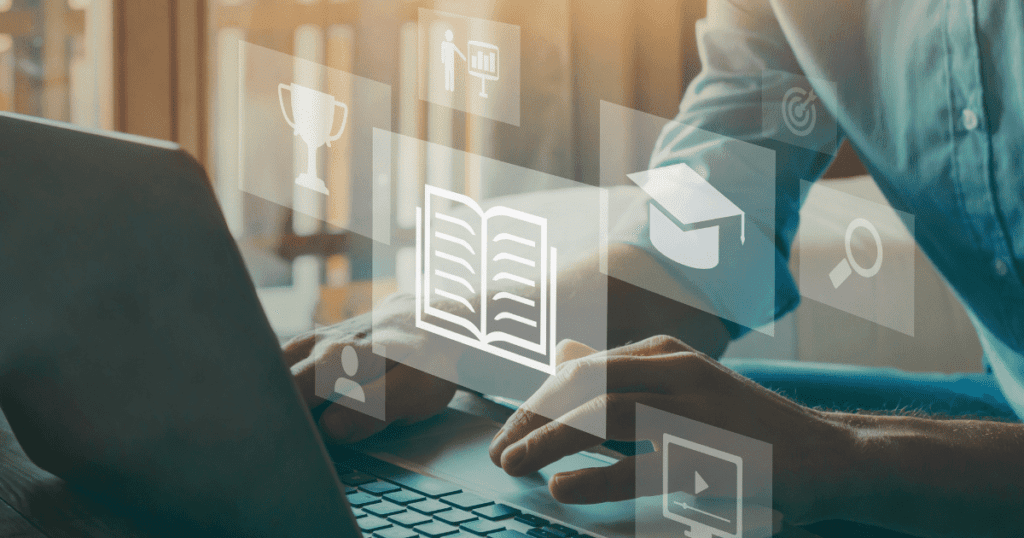 CONCLUSION
To remain competitive and attract people, your company must provide opportunities for learning and growth that progress careers. E-learning is becoming increasingly significant as a means of upskilling and transforming your staff in this modern generation of flexibility and hybrid working.
 So, we hope that you have learnt about the advantages of e-learning for your business with this blog.