Marketers frequently use and comprehend phrases like conversion rate, cost-per-click, return on investment, and search engine optimization. And that only scratches the surface of the information needed for a marketing position.
The necessity for digital transformation has increased across industries, especially since Covid-19 required businesses to focus their marketing efforts online. This means that businesses require marketing graduates with digital abilities who can increase brand awareness, provide leads, and boost sales.
The issue is that a large number of graduates are leaving universities and colleges without the digital competencies needed by businesses. According to "Work Ready Graduates: Building Employability," nearly 80% of companies think that current graduates do not arrive completely prepared with the skills they require to be work-ready.
In this blog, we examine 7 strategies that universities and colleges may use to increase the employability of marketing graduates and address the scarcity of digital skills.
What do students of today want?
Graduates in marketing who have spent time and money studying for a degree want to leave school with transferable abilities they can apply in the workplace. They want to be able to apply for a job with the assurance that they will be called in for an interview, or even better, that they will receive the job!
Unfortunately, many people can't say that. Work can be intimidating, and the marketing industry has quickly developed to now include specialisations like sponsored search, content marketing, social media marketing, and data analytics, among others.
Focusing on employability-enhancing skills and making investments in future-enhancing activities are what students expect from the higher education industry..
According to Cengage's "Graduate Employability" survey, 66 percent of graduates want more practical experience and think institutions should focus on:
Access to online courses and certification programmes, as well as practical learning
internships funded by the school
mentoring programmes and connections to regional business leaders
Today's marketers are not only expected to have more sophisticated digital skills than other recent grads but also require them. Marketing students want the following in addition to practical experience:
Knowledge of digital platforms and technology that is practical
A qualification or diploma that increases job opportunities and is respected by companies
Essential soft skills like critical thinking, creativity, and problem-solving.
What talents are in demand from graduates by modern employers?
Businesses require marketing graduates who can use the most recent technology, are socially adept, and are work-ready. Marketing Week's analysis revealed a sharp increase in demand for marketers with expertise in social media, e-commerce, and data analytics.
According to WeForum, the top rising vocations in 2025 will be data and artificial intelligence, content production, and cloud computing. The most in-demand talents will be analytical thinking, creativity, and adaptability.
Marketers will continue to have a high demand for digital expertise. Customers are becoming more discriminating and demanding, and they expect content and message that is relevant and individualised. Increased automation will result from this.
So how can educational institutions prepare graduates in marketing for the workforce? And what are the answers to the problems they are facing?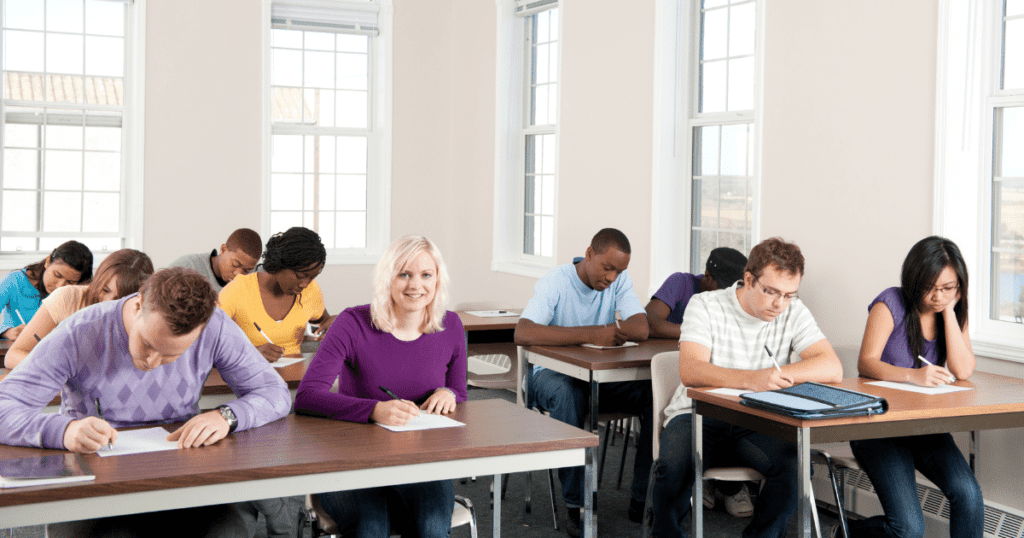 What difficulties do teachers encounter?
According to Microsoft's report, "Unlocking the UK's Potential with Digital Skills," only 28% of business leaders think the educational system provides appropriate digital training.
According to an ITIF analysis, the situation is even worse in the United States, where one-third of workers lack digital skills, 13% have none, and 18% have only moderate digital skills.
What difficulties do therefore higher education institutions encounter when trying to teach digital marketing?
1) Outdated marketing education programmes. Numerous colleges and institutions do not update their curricula every year or even every two years, resulting in outdated content. Digital marketing is frequently completely excluded.
The following was revealed by the authors of a study of undergraduate programmes published in the Journal of Marketing:
We discover that a disproportionately high number of educational institutions don't offer any courses that specifically cover marketing analytics or digital marketing. That recognised business schools of all levels, including some larger programmes, may be failing to prepare marketing students for the realities of the corporate world and possibly widening the digital skills gap is extremely troubling.
2) Identifying the right teaching talent – It might be challenging to impart current understanding of digital marketing to students when there is a skills gap among university/training staff in this area.
3) Knowing what businesses want is important because there may be a discrepancy between what an institution of higher learning thinks employers want and what employers actually want of graduates.
4) Time restrictions – Resources in higher education might be scarce, and it takes time to develop or update course materials. Frequently, the tools needed to do this are not readily available.
5) Difficulties with cross-collaboration – It can frequently be difficult to put essential departments and functions on the same page and develop a cohesive plan throughout the institution.
6) The rapid speed of change in digital platforms and technology makes it challenging to stay current and incorporate new information into curricula and instruction.
In order to teach pupils digital skills, colleges and institutions require assistance given the difficulties they face. Let's examine the process for doing this.
How can educators support students' professional success?
Colleges and universities are in a special situation. They serve as a conduit between recent graduates and businesses and offer the chance to match skill sets with industry demands.
Here are seven practical strategies educators can use to support students' professional success:
1) Provide work-integrated learning – This innovative strategy will assist higher education institutions in including workplace learning in their curricula. In order to incorporate brief projects that give students real-world experience with companies into their curriculum, Arizona State University created a pilot programme using the Riipen platform.
2) Offer a third-party credential with current digital content – If developing or updating course material for your marketing curriculum is difficult, team up with a reputable third-party certification organisation that provides universities and colleges with content that has been approved by the industry.
3. Provide personnel with digital skills training. Educate university or college staff in the field of digital marketing so they can better grasp the market and assist students.
4) Obtain accreditation for your digital marketing curriculum. Not only will this strengthen your offering, but it will also help graduates in their job searches.
5) Form partnerships with regional businesses or brands. This will enable you to connect with the regional business community and provide students with practical knowledge and experience through internships or work placements.
6) Be innovative with your teaching techniques. Introduce digital tools like gamification or experiential learning into the classroom.
7) React to changes in the market by adding new resources to the curriculum that can be offered as course supplements.
25% of Americans reported interest in non-degree qualifications, whereas 37% of Americans expressed interest in skill training.
Strada analysis
What role will digital marketing play in schools going forward?
Making sure marketing graduates have marketable skills and are prepared for the workforce is difficult. But the initiative to close the gap is with universities and colleges.
The secret is to provide content for your marketing campaign that is current and relevant. Giving students practical knowledge and marketable skills will be made possible by incorporating real-world experiences through case studies and experiential learning.
While work-integrated learning, mentorships, and connections to the local business community can provide graduates with the practical experience in digital marketing that they presently lack.
Above all, think about including digital marketing classes in your marketing curriculum. This strategy will not only provide new, industry-relevant content, but it will also bring value that could raise enrollments and improve student employability.