The recent proliferation of Augmented Reality (AR) and Virtual Reality (VR) technology has significantly changed the way consumers interact with e-commerce brands. Recent research shows that 80% of US consumers are aware of VR, while 79% of those who have tried it would do it again.
Global adoption of immersive technology is definitely on the rise, led by the UK, US and China. In fact, 95% of the world's VR devices are currently manufactured in China, and its own government is committed to supporting the development of virtual reality throughout the country.
 How will AR and VR affect e-commerce retailers and what does the future hold? 
Both AR and VR offer today's digital consumers a unique opportunity to go (of course) into an immersive experience where they can get up close and personal with a brand and its services or products. This bold new online shopping trend brings with it a wealth of possibilities.
Here we explore how VR and AR are impacting e-commerce, as we ask what the future holds for the relationship between these new technologies and e-commerce.
 Bridging the Digital and Physical Worlds: 
While many experts and publications have announced the death of the high street, it appears that we are in the midst of a brick and mortar renaissance.
E-commerce brands are now able to deliver a more personalized customer experience than ever before, turning brick-and-mortar stores into an extension of e-commerce and vice versa. And with huge e-commerce players like Amazon gearing up for the brick-and-mortar arena, AR or VR-based features seem to have great potential to bridge brick-and-mortar and e-commerce experiences.
While many established e-only brands are reluctant to set up brick-and-mortar stores due to cost and resources, it is possible to partner with brick-and-mortar retailers using AR and VR platforms, programs and brand awareness initiatives.
To illustrate how these ubiquitous technologies are shaping e-commerce in physical terms, let's look at the well-known American retailer Macy's. To improve its in-store shopping experience and accelerate its business growth online, Macy's has selected 69 furniture stores in the United States that now offer innovative, engaging features, functions and displays.
Using the seamless combination of VR and AR to its advantage, Macy's has combined online and offline shopping into one seamless, highly connected experience. Its latest initiative, "Visualize Your Space," allows shoppers to place different pieces of furniture in their home environment while shopping in-store.
Here, customers can see, touch and experience products in person and use comprehensive technology to decide whether they are worth buying. As a result of this AR-based initiative, the typical cart size in these tech stores is said to be 60% larger compared to other Macy's furniture departments.
Additionally, this success based on AR and VR has had a positive impact on the brand's e-commerce sales, with its in-app sales growing by 50% at the beginning of last year. What a testament to the power of the marriage of VR, AR and e-commerce.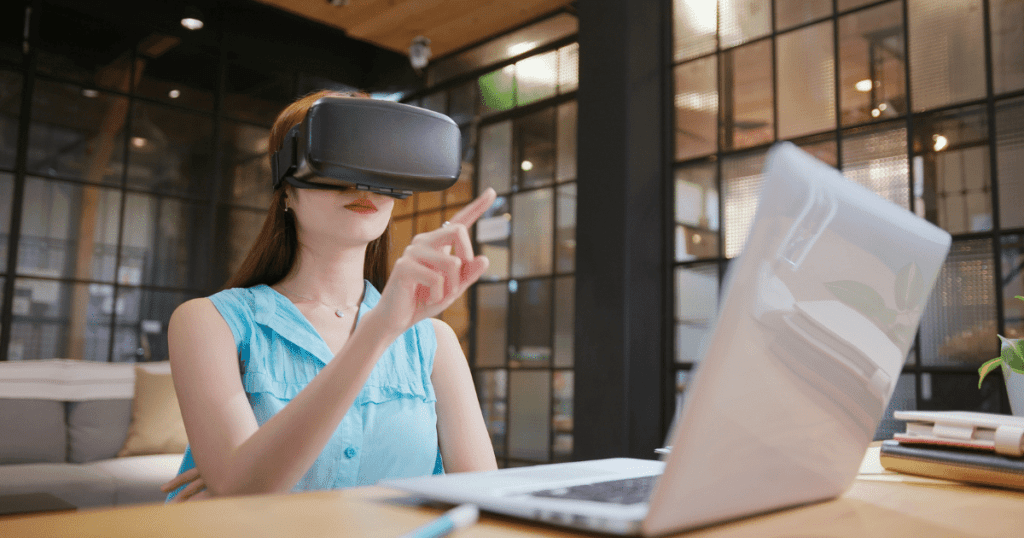 Extreme Personalization and Immersive Online Shopping:
The interactive nature of VR and AR means that online consumers can now enjoy a much more personalized and meaningful shopping experience.
Although many are aware of AR and VR-based technologies, and despite their proven e-commerce success rates, 61% of brands do not use the technology at all. More and more e-commerce brands are now using these features to personalize and differentiate their customer experience.
Many Fortune 500 companies such as Walmart, Boeing and UPS are using VR for consumer marketing in addition to educating, training and inspiring employees.
One of the early adopters of VR technology, Amazon recently patented a mirror with Body Labs that can dress you up in virtual clothes, adding extreme personalization to the brand's customer experience.
This part-reflective, part-transmissive device, when fully realized, zooms in on the wearer's face and transports them into a reflective environment where they can virtually try on different outfits, allowing them to make informed choices based on real-world interaction. without leaving home.
Another notable example of brands using VR to drive extreme personalization while creating an immersive shopping experience in practice is the growing Snapfeet. An AI-powered algorithm uses a 3D biometric image to allow customers to scan themselves with its proprietary app, offering a series of "custom" recommendations based on characteristics such as shoe size, foot shape and style preferences. This immersive application also presents its recommendations with an interactive 3D image that allows the user to visualize the products before buying them:
Although this innovation is in its infancy, it has already been well received by critics and consumers, suggesting that it will see a lot of growth of this type in the near future.immersive online shopping experience in boom.
AR, VR and the Future of E-Commerce:
Research shows that in the US alone, around 22 million people experienced VR in 2018, and that number is expected to rise to
9 million by the end of 2019. That's an incredible adoption rate.
However, here are some predictions about AR, VR and e-commerce in the near future:
AR and VR will continue to drive and shape experiential marketing, giving e-commerce brands more tools and opportunities to deeply invest their audiences in their offerings. . . products, services or content in a mobile or virtual sense.
The continued growth of immersive technology allows e-commerce brands to make brand storytelling much more interactive and engaging, allowing the user to control content and connect with the company on a deeply personal level.
As AR becomes more and more integrated into our daily lives and applications and virtual touch points are readily available at every turn, e-commerce companies can use the data generated by these touch points to completely customize the user's online shopping experience.