If your product and services are good, customers will automatically increase with time and your business will flourish. But there's just one twist, this is not the case for most businesses. At some point in time, you have to focus on marketing, and being early into it will only do good for you. After all, you can't have a market without marketing.
It's much easier to give your business a great headstart with online marketing and even when premium toolkits are recommended, you can start for almost free. A big part of e-Commerce is social media marketing, which is basically free if you don't consider promotions.
It's just a matter of time until you get your first return on investment and start investing more in your marketing after realizing its potential. Let's see how marketing helps Small to Medium scale Businesses (SMBs)
Pros of Online Marketing
The audience that you reach is massive and diverse, ranging from different age groups, people with different interests, and from all over the world, possibilities are endless. On top of that, all this massive reach is effective & affordable.
The scale of online marketing Is not limited, small to medium to large, any kind of business can explore and benefit from online marketing. You get interactive access to your users and queries can be solved almost instantly, providing for easy feedback and thus faster upgrades.
The ability to reach your targeted audience anywhere around the world, at any given time, gives e-marketing an edge over traditional marketing. You can construct a strong customer base from around the world and launch loyalty programs among this group.
Knowing the incredible possibilities of e-marketing, let's see how to get started with marketing your own small-scale business.
How to get started?
The Internet is vast and so are the possibilities to advertise, here are some of the known strategies to get started with marketing:
Pay-per-click (PPC) or Ad campaigns
Search engine optimization (SEO)
AI marketing
E-mail marketing
Social media marketing
Content marketing
We've covered all these strategies in-depth in our other blog posts. All these strategies combined with a smart marketing plan will help your business grow faster than ever. Having pre-established goals for your campaign is going to help you a lot.
Analyze which channel will give you a higher ROI by knowing where your target audience dwells. This way you can invest more into that particular channel of online marketing. Here we are briefly covering the above strategies while explaining each with an example:
Pay-per-click (PPC) or ad campaigns
The first preferable step in getting started with the online outlet of your business is creating a beautiful website for it. Your website should be a depiction of your brand value and should also serve as a catalog for your products and services. Your site should be fast, responsive, informative, and easy to navigate to ensure higher conversions.
Search engine optimization (SEO)
Search engine optimization is the primary goal once you're done building your site. Write blog posts and articles that add value to the user and make them a part of your loyal group of potential customers. Implement the best SEO strategies to make your blogs rank and reach a more diverse audience.
AI marketing
Just like the other strategies, we've discussed this vast topic in another blog. AI marketing has taken over much of the human hard work as it can do almost all the data-fed work, also making personalization way easier. You can opt for AI marketing if your business is a medium-scale business.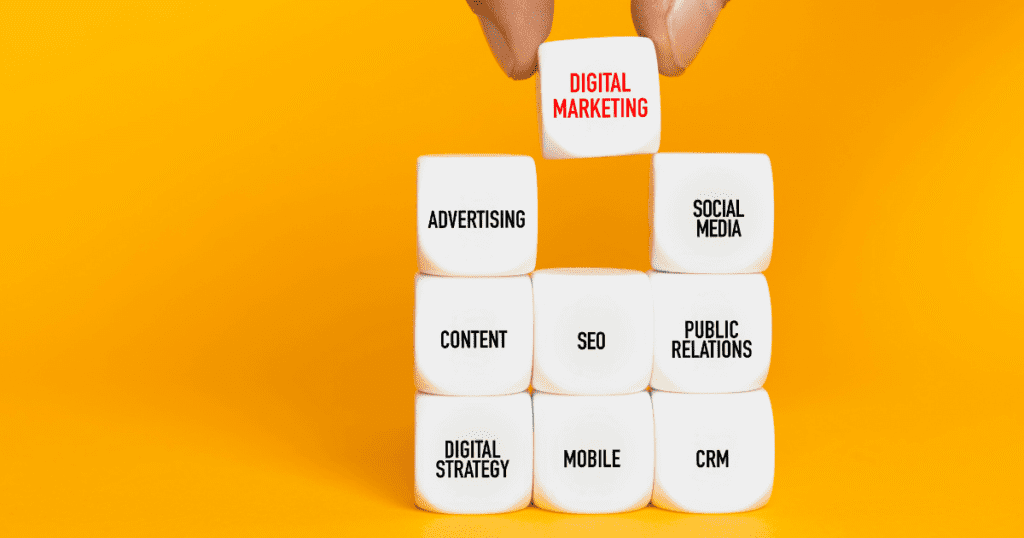 E-mail marketing
E-mail marketing refers to newsletters as well as an e-mail with personalized recommendations to serve the user better. They can also be used in retargeting a previous customer and bringing them back to your page by providing them with exclusive discounts and offers.
Social media marketing
Marketing on Facebook, Instagram, or any other social media platform comes under social media marketing. You can start by creating a business account and posting regular updates about your products. Gradually start promoting your posts and as you gain more reach, you'll develop a user base that is interactive and ready to convert.
Content marketing
Engage in more than just blog posts or articles, put out video content, podcasts, infographics, guides, and more. Combine and interlink your content together, for example, you can embed your videos in your relevant blog posts or you can link your relevant blogs in the caption of your video content as a transcript, possibilities are endless.
Any tips?
As we mentioned before, all these strategies have been covered in detail in our other posts, make sure to check them out before starting up. That said, here are some things you should keep in mind while putting these strategies to use.
Increase engagement – With the upcoming features in Google AdWords, you can place your contact on your ad. This will bring the customer directly to you and will boost lead generation. Be present on your social media handles and constantly engage in conversations with your potential customers.
Online presence – Your online presence is of utmost importance, don't miss out on any social media platform, don't miss out on articles and blogs, and don't miss out on collecting feedback. The feedback in the form of reviews is very crucial and will be used by the user to judge the quality of your services.
Competition – You're in a world of constantly growing competition and you must know what your contenders have on the table. Be aware of the next move your competitor makes and stay one step ahead. This doesn't necessarily mean copying your competitor but thinking more productively than them.
Maybe now it goes without saying, that online marketing is way cheaper than the traditional ways and would earn you a higher ROI for the same amount. Social media is one such aspect of e-marketing, that will increase your reach to people who are searching for relevant content and separate you from the uninterested audience.
Another thing to keep in check is your originality, while maintaining your brand value, you should also convey the emotion or expression of your brand. People relate to brands that have a human touch to them, so don't hesitate to add a little bit of humor to your pages.
Lastly, don't forget to tag or mention the location of your business, they massively help in driving sales locally. This way you can utilize your online marketing in traditional ways too. Be consistent and keep hustling.
If you liked this article and don't want to miss out on premium content like this, then make sure to subscribe to our newsletter. If you've any doubts or queries just drop them down in the comments. Or if you want any suggestions from us, hit us up on social media.